News
All new range of Fotospeed FOTOCARD's
ART SMOOTH DUO 220gsm

Pack of 25 cards & envelopes
Available sizes:

A6 (105x148.5mm)
inc. envelopes - £19.99
i3 (74 x 210mm)
inc. envelopes - £19.99

Art Smooth Duo is double sided with a warm tone base and a smooth finish. It is 100% alpha-cellulose and 100% acid free. Using the latest ink receiving technology this double sided paper prints perfectly with DYE and PIGMENT inks.

MATT DUO 230gsm

Pack of 25 cards & envelopes
Available sizes:

A6 (105x148.5mm)
inc. envelopes - £11.99
i3 (74 x 210mm)
inc. envelopes - £11.99

Matt Duo is double sided with an ultra-smooth, bright white base. It is a medium weight MATT paper ideal for card making and portfolios. Excellent value for money and superb print quality. This double sided paper prints perfectly with DYE and PIGMENT inks.
CLICK HERE for more info
THE ROBIN HOOD Open Exhibition - A resounding success!
Some amazing pictures by wonderful photographers were entered into this years competition.
Congratulations to our very own Derek Doar for running such a great competition which we gladly sponsor.
CLICK HERE to view more great images
Chris Palmer gets his FRPS!!!
A big congratulations from all at Fotospeed to one of our sponsored speakers Chris Palmer. He has recently been awarded his FRPS
"View Finder" by Joe Cornish
Don't miss this solo exhibition from internationally acclaimed landscape photographer Joe Cornish.

Joe Cornish has spent the last year compiling a series of new Yorkshire images with particular emphasis on the Dales. He will be showing them at The Station in his latest exhibition View Finder along with several new 'giant' images commissioned by The Station especially for the show and measuring up to six metres in size.
All his work was printed on our Fotospeed Smooth Cotton 300 paper.
Platinum Baryta is Highly Recommended by WDC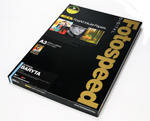 We are pleased to announce that Fotospeeds Platinum Baryta has been chosen by What Digital Camera as
Highly Recommended.
Click Here to read the full article.
Click Here to see the Platinum Baryta page on our website.
Fotospeed Platinum Baryta makes APs Top Ten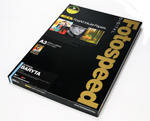 Our very own Platinum Baryta has been considered as one of Amateur Phtographers top ten Christmas ideas.
Click Here to see more of our great christmas ideas.
Click Here to see AP's Top Ten
KPS Convention 2012 a great success
Sundays KPS Convention was a great success and an enjoyable day for all.
Each of the speakers were completley different and also approached their own subjects in their own unique way.
A big thankyou must go out to Adrian and Vanessa Herring for helping to arrange the whole event.
A few pics from the day:
Platinum Baryta gets the 5 STAR treatment
It gives us great pleasure to announce that we have received the prestigious 5 STAR Award from Amateur Photographer for what they considered "the best paper for prints".
Click Here to read the full review
Click Here to read more about Fotospeed Platinum Baryta
Hahnemuhle Special Offer
Save up to £60!
To celebrate a BIG sporting year for the UK, Hahnemuhle are running a very special summer promotion from now until September 15th...
The Special Promotional prices are on Hahnemuhle's Top 3 papers in the selected sizes (Click paper for more info).
Promotional Prices are as follows:
A4 25 sheets: £30
A3+ 25 Sheets: £75
24" Roll: £135
44" Roll: £250
New Partnership with OnLandscape Magazine
It gives us great pleasure to announce a NEW partnership with Tim Parkin and Joe Cornish at the fantastic Online Landscape magazine OnLanscape. With the kind permission of Tim, we can now offer you all one article a month which we feel will be of interest to you all. Click Here to visit our articles page.
Deliveries During the Olympic Games
As we wait in anticipation for the start of the Olympic and Paralympic Games we are busy working with our carrier companies assessing the potential effect there may be to our service delivering to customers in towns and cities with Olympic venues over this period of time.
If you have any questions do not hesitate to contact us.
Click Here for more info regards the DPD Olympic lockdown areas.
Kind regards,
The Fotospeed Team
Fotospeed Smooth Cotton 300
A new addition to our FineArt paper range. This bright white, smooth paper is perfect for reproducing your special images. Made from 100% Cotton Rag, it is acid free and pH Neutral adding to its archival qualities.
Read below to see what Joe Cornish thinks of our new paper:
"I aim to crystallise the endlessly varied light, colours and texture of nature in my landscape photographs. At the end of a chain of photographic processes, the print is the culmination and fulfilment of that effort, and the paper is critical to the success of the print. Fotospeed's Smooth Cotton 300 is one of the few papers that does justice to my images."
New Products
We are pleased to announce a new lightweight version of both PF Gloss and PF Lustre. Both great for proofing or as a photo paper in their own right.
Fotospeed Fotolinen
A Poly/Cotton mixed material which can be used for canvas stretching, cushion making and many other crafty projects.
Comes with pre attached loading sheet.
Click Here for more info.
Exciting New Partnership - Part 1
Seamus Costello
I have been an avid Amateur Photographer for sixteen years and a Professional Photographer for nine years. I have been an admirer of Fotospeed from day one and an avid user of the wide range of quality papers available to me.
The magic of printing my own work is imperative to me. Fotospeed's comprehensive range of quality paper are the vital ingredient to my creative skills.
The services offered by Fotospeed are impeccable.The free profiling service + free custom ICC profiles. Log Me In remote profiling service for solving my technical queries.
A comprehensive product guide that is second to none on the market.
The new range of Platinum BARYTA is a masterpiece. PF Lustre and PF Gloss are superior to any paper I have ever printed.I conduct workshops in Ireland and have featured prints so as to promote the art of printing.The feed-back from those attending on the PF Lustre and Gloss prints are extremely favorable.
It has been a privilege for me to be designated an ambassador for the Fotospeed program in Ireland.
Regards
Seamus
NEW NST Bright White paper



NST Bright White is an exciting new addition to the Fotospeed FineArt range. It is 100% Cotton and a soft, sumptuous feel, it is an exciting option for the photographic market. Its bright white base reproduces colour and black and white images to a new level. A sample is a must.

Sales Sheet PDF Click to buy
Amateur Photographer awards Fotospeed 5 Stars


Fotospeeds Tubeless Ink System for the Epson R3000 has been awarded 5 stars in a recent review. Here is a quote:

"The overall set-up is the most straightforward inkflow system I have used so far... Gives up to an 85% reduction in cost... Most importantly, however, the system produces prints that match the quality when using Epson's own inks."

Read the full review in AP on March 17th 2012

Full Review now available as PDF Download
Our products are all featured in downloadable pdfs.
Tweets by @Fotospeed